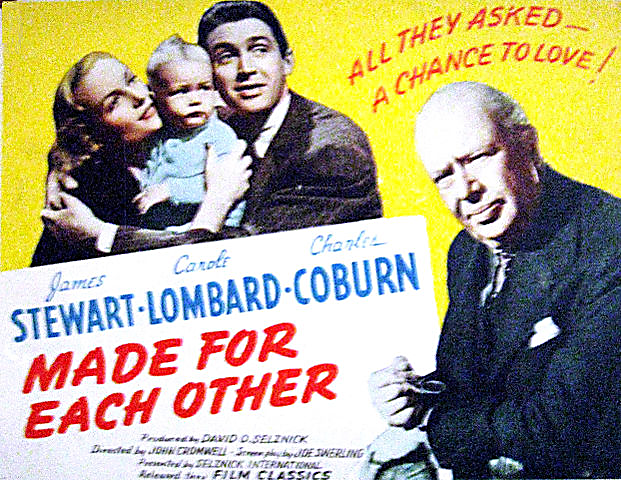 Made For Each Other1939 Movie – Comedy, Drama, Romance
Made For Each Other1939 Movie – Comedy, Drama, Romance
There is a great deal of drama in Made For Each Other. There is a comedy in this 92-minute movie, however, Made For Each Other is not "a comedy." The phrase "made for each," other implies that the couple in this movie is so perfectly suited for each other that it's no surprise when a couple is happily married. However, I'll leave it up to the viewers to decide if the couple in this movie is truly made for each other.
Although I am tempted to give away the plot, it is not my intention to do so. You just need to be reminded of this 92-minute gem. "Made For Each Other" was made in 1939. What movie made in 1939 wasn't good? Here are just a few of the other films made in 1939:
Gone with the Wind (Best Picture winner)
Goodbye, Mr. Chips
Love Affair
Mr. Smith Goes to Washington
Ninotchka
Of Mice and Men
Stagecoach
The Wizard of Oz
Wuthering Heights
No wonder 1939 is considered by many to be the best movie year ever.
It's my desire that you will find out that some of the lesser-known works are also worthy of your attention too.
Selznick International Pictures – an Independent Production Company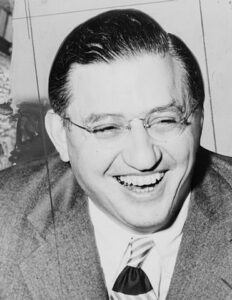 David O. Selznick founded his production company in 1935. It was dissolved in 1943. Rebecca (1940) and Gone With the Wind (1939) won Best Picture. Three other of his pictures were nominated: A Star is Born, Since You Went Away, and Spellbound.
As you can tell, Selznick was very picky in choosing what projects to produce. He thought that only cheap or very expensive pictures could make a profit in the movie industry. He had the reputation of producing high quality (and often very expensive works).
Distributed by United Artists
Director – John Cromwell
John Cromwell was an actor and director on the stage and in the movies.
He started out on the stage in 1912 as an actor. He was a successful Broadway director. In the late 1920s, he moved to Hollywood and was astonished that the movie industry was terrified of the new talkies. Because of his 28 successes as a movie director and sometimes director-actor, he was persuaded By David O. Selznick to direct Made For Each Other.
Stars – Some unlikely contenders
James Stewart


Excelled in screwball comedies. Made For Each Other is not a screwball comedy.
His ability to portray believable emotion shows through as Mr. Smith in Mr. Smith Goes to Washington (1939)
Carole Lombard


John Cromwell saw that the queen of screwball comedy had the potential of being a great dramatic actress.
Her lead role in They Knew What They Wanted (1040) would provide more evidence to confirm her as a dramatic actress.
Too bad her life was cut short in 1942 when the plane she was traveling in crashed into a mountain in Nevada.
Charles Coburn


Charles Coburn started out working in the theater in 1901 at age 14 and quickly became an accomplished stage actor. In 1918, he and his wife formed a production company called "The Coburn Players."
After his wife died in 1937, he signed a movie contract at age 60.
Lucille Watson


Lucille Watson began her Broadway career in 1902. She appeared in 39 plays during her stage career.
Even though she was primarily a stage actress, she had 45 film roles.
Her most memorable role was Aunt March in Little Women (1949).
She played Mrs. Harriet Mason in Made For Each Other – a character that like Aunt March, starts out as being unlikable.
Supporting Cast – Some important roles were uncredited
A few of which I will draw attention to here are:
Esther Dale 

played the first cook whose comical dialog gives the viewer insight into the character of Mrs. Harriet Mason
Louise Beavers

played Lilly, cook number three. I believe Lily's encouragement of the married couple, ( Lombard and Stewart). IS what keeps the story alive.
Harry Davenport

Plays the doctor – a short but hardly unimportant asset to the
script.
Music by – Oscar Levant (uncredited)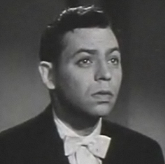 It's no wonder, Oscar Levant isn't known as a composer. Made For Each Other is just one of many movies in which he was uncredited for his music. Anyone who has an appreciation of the golden era of Hollywood knows Oscar Levant as a great pianist – they just don't know that he was also a very competent composer.
Today, it is almost unthinkable to not give any on-screen credits even for an obscure presence or activity of anyone involved in the making of a movie.
If you need help to get this movie – I can help: As an Amazon Associate I earn from qualifying purchases.
. If you are an Amazon Prime member.
Or
. If you prefer a DVD.