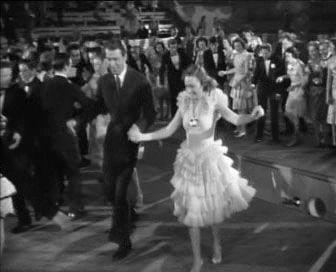 It's a Wonderful Life – Is it the best movie ever?
It's a Wonderful Life – Is it the best movie ever?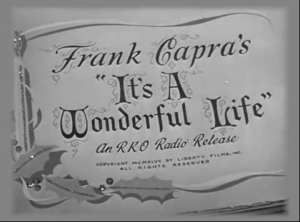 I used to say that 'Its a Wonderful Life was my favorite movie of all time. But that isn't the same as saying it's the best movie ever.  This picture is definately a great movie and shoud be considered to be a classic.
You the reader will be the ultimate judge as to whether It's a Wonderful Life is just a great classic or really is the best movie ever. I'm going to lay out many pieces of information that will help you to make up your mind.
As usual, I will not retell the story here. But I will give you some background  about the making of this picture, its stars, director, writers and other information that you may not be aware of.
The origin of the stoy – is a Christmas card
Beleve it or not It's a Wonderful Life was inspired by a story that was included in a Christmas card. The author, Philip Van Doren Stern, had written a short story called The Greatest Gift in 1943. When he was unsuccessful in getting the story published, he decided to print 200 copies that he sent to his friends as a Crristmas card in December of 1943.
How The Greatest Gift became a movie – Background
RKO Pictures bought the movie rights for the story from Philip Van Doren Stern for $10,000 in April of 1944. They intended for it  to be a movie for Cary Grant.  However the project was put on the shelf. In that version, George Bailey (Cary Grant), would have been an idealistic polition who becomes so cynical that he contemplates suicide.
Charles Koerner who was the studio chief at RKO asked Frank Capra to read The Greatest Gift.  Capra had made training films and documentaries during the war. He saw this story had great and bought the rights from RKO for the same amount that they had paid, $10,000.
Director Frank Capra – It's a Wonderful Life cost him his career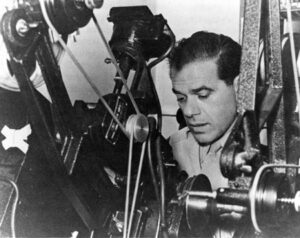 During the war
Frank Capra had founded Liberty Films, an independent production company.It's a Wonderful Life was the first of two films produced by Liberty Films. It was released in 1946 after World War II. Film critics' reviews were unfavorable and the movie lost money In fact Frank Capra lost $500,000.
State of the Union released in 1947 was the only other film Liberty Films made. Although  in my opinion it was a great movie, it barely broke even. Liberty Films was sold to Paramount Pictures and these films became their property. In 1951 Paramount Pictures dissolved Liberty Films.
Even with all of that, Frank Capra said It's a Wonderful Life was his best movie.
Choice of the leading roles – James Stewart and Donna Reed
James Stewart was from Indiana, Pennsylvania which was a small town. This movie is set in a small town of Bedford Falls. He had just returned from combat in the European theater and wasn't sure that he would return to acting. However when Frank Capra told him the story outline, James asked when would they start shooting. His character, George Bailey, wanted to build things, and James had a degree in architecture that made him a good fit.
Donna Reed also was from as small town in Iowa. She was well suited for her role as Mary.  She surprised the director when she threw a rock hit a target herself in a scene. Frank had a sharpshooter ready to hit the target for her. What Capra didn't know was that Donna had a very strong and accurate throwing arm. She was an experienced baseball player.
Great supporting cast
Lionel Barrymore was cast for his ability to portray a callous deceitful and hateful business man.
Thoms Mitchell was chosen because he had the ability to show frustration and bewilderment.
Beulah Bondi had played James Stewart's mother in other movies and was always convincing.
It's A Wonderful Life – From obscurity to a must see Christmas movie
As I mentioned earlier, this movie did not fare well in the theaters when it was released in December 1946. Because of it's lack of popularity most people didn't remember this movie.  So when TV stations put Christmas movies in their lineup, this movie was rarely chosen. Many other holiday movies had been produced and the station owners thought those movies would give a grater return if they rented them to show. However due to a   clerical error the copyright owners failed to renew their copyright in 1974 for an additional 28 years under the 1909 copyright law that covered this movie. Because of that failure, It's a Wonderful Life went into Public Domain. TV stations were able to show It's a Wonderful Life multiple times without paying royalties.  Over the next 20 years, the movie was shown over and over every Christmas season. Now people consider it to be a holiday classic.
In 1993 everything changed. The Supreme Court ruled that the current copyright owners could enforce their claim to the film notwithstanding the clerical error.  So we might have never seen this movie if it had not been for the clerical mistake that caused the renewal application not to be filed.
As an Amazon Associate I earn from qualifying purchases.

---